The Reluctant Landlord
A Regency romance. Against their wishes, Quentin Thornhill and Katrina Jones are thrown together in a battle of wills. Who will be the victor?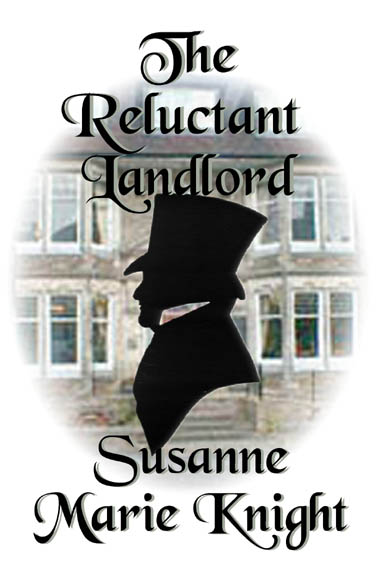 To order electronic book, visit Wings ePress.
To order electronic book, visit Amazon.com. Also on Kindle Unlimited. Print: Amazon.com print.
Or click here for autographed print copy
Reviewers are saying:
THE RELUCTANT LANDLORD was a wonderful Regency adventure. (It is actually a historical novel set in the Regency period.) The characters were just heroic enough that they came across as both warmly human and singularly unique. The reader can cheer through their initial backbiting and later problems, and easily finds herself swept along on a roller coaster ride of excitement that ends all too quickly. Another plus was that the villains were actual three-dimensional people, not the stereotypical people-cutouts that serve as antagonists in some novels. The ending is poignant and eminently satisfying -- a sure bet for anyone who enjoys the sweeter side of historical romance.
Packed full of action, emotional drama and, of course, romance, THE RELUCTANT LANDLORD is wonderful proof of Ms. Knight's talents at both characterization and setting. Readers should watch this gifted author -- she is a star in the making.
Reviewed by

ParaNormalRomance Reviews

, Ann Leveille
Whenever I think of the Regency romance, the names Mary Balogh and Carla Kelly come easily to mind. Susanne Marie Knight, a name not familiar to many, pens THE RELUCTANT LANDLORD; a wonderful story that is sure to touch the hearts of Regency fans, and establish her as one of the rising stars of the Regency romance....
THE RELUCTANT LANDLORD is a delightful Regency romp which will titillate with its diverse and well-created characters. Both Quentin and Katrina are well-developed. Quentin, at first cold and angry with the world, slowly becomes a man who recognizes the importance of love. Katrina, cautious about caring, leans the importance of loyalty and trust.
Along with Quentin and Katrina, Ms. Knight creates a menagerie of secondary characters that is unique and memorable. The Dowager, Aunt Hattie, and the evil Therese, come quickly to mind. Four-year-old Freddy also stands out, as we watch him move from a quiet, scared boy to a vibrant energetic individual bubbling with laughter.
Wonderful characterization, a perfect sense of the Regency era, and a well-developed plot makes THE RELUCTANT LANDLORD one of the best Regency romances I've read so far for the year. Ms. Knight is a formidable talent!
Reviewed by The Word On Romance, Wayne Jordan
Ms. Knight has written yet another enjoyable romp illustrating the development of an unlikely relationship between two opposites. Her quirky sense of humor and endearing characters provide hours of reading pleasure, along with a fast moving plot written smoothly and seemingly without effort. Well-rounded characters, while thoroughly likeable, are not without their faults, which serve to add compelling back-story and character development beneath the talents of Ms. Knight's pen. She has once again delivered with THE RELUCTANT LANDLORD.
Reviewed by

Road to Romance

, Denise M. Clark
THE RELUCTANT LANDLORD is a well-written book which contains very good characterizations. If you like brooding heroes, this is a book for you. The Earl has been betrayed by his dead wife and his mother and is very distrustful of women. Katrina, an independent woman for her time, has experienced abuse from her gambler father and has her own issues to deal with. It is wonderful to see their relationship grow. THE RELUCTANT LANDLORD is the third book that I have read by this author, but hopefully it won't be the last. I truly enjoyed all of Ms. Knight's books, and will be looking for her other titles. I only hope she writes more Regencies.
Reviewed by ParaNormalRomance Reviews, Marlene Breakfield
5 Stars! Very enjoyable! I have to be honest and admit that I found this title to be a fascinating read. The characters I felt are used perfectly. The whole idea of the story was superbly written. I love the culture and the way that the spoken words are so clearly illustrated, this brings the best out of each character. This novel comes highly recommended. I will certainly be purchasing more works from this author.

M.R. Amazon.co.uk
Through her late father's propensity for gambling and dissipation, Miss Katrina Jones and her great-aunt Hattie lose their home in Suffolk and travel to London where Katrina hopes to earn a living as a silhouette artist. Aunt Hattie's old friend, the Dowager Countess of Udall, leases them a house on Mincing Lane. Quentin Thornhill, the present earl, is unaware that the deed to the house he has come to inspect was delivered to his mother, or that respectable ladies have taken up residence in his new love nest. Faced with Miss Jones in the parlor while Miss Dufay waits in his carriage, the earl is a frustrated man, not a good state for a short-tempered lord to be in. When Katrina won't be bought off with a bag of coins, he rants at her about eviction, takes his leave, and dismisses his caterwauling mistress before ever having sampled her wares.

Meanwhile, Quentin's luck goes from bad to worse when his brother's widow moves in to make another of her periodic attempts to snare him. He only tolerates her because he loves his nephew Freddie--a weakness she's not above exploiting.

Through a series of blunders on Quentin's part, he and Katrina are found in a compromising position, yet he's beginning to think that's not an altogether bad thing. She is nothing like other women who have caused him so much misery. As for Katrina, new and different feelings are stirring beneath her fears of the earl. Dare she take a chance on marriage?

Katrina quickly elicits liking and respect; her life hasn't been easy, but she retains her honesty and optimism. Quentin's character is more complex--his kinder side takes longer to appear. The author deftly portrays a relationship that goes from battling to lively to warm, and four-year-old Freddie is a heart-grabbing little tyke.

THE RELUCTANT LANDLORD shows us once again that the path of true love seldom runs smooth. Quentin and Trina face conflict after conflict. Some are the result of the differences between an innocent country girl and a disillusioned man of the world. Some are caused by the evil intentions of others. In either case, they make for intriguing situations.

For a well-wrought plot about lives gone wrong, love, redemption and just desserts, I recommend THE RELUCTANT LANDLORD.
Reviewed by Romance Reviews Today, Jane Bowers
[THE RELUCTANT LANDLORD] is a lighthearted romance... There are a lot of obstacles in the Earl and Katrina's path before they can find true love. Fortunately, the Earl is a man used to getting his own way and sweeps aside anyone who tries to thwart him. Though he is formidable, he is still rather a likable character. Susanne Marie Knight wrote the characters well and it is evident that they are thoroughly thought out. They interact with each other superbly and this makes them all the more interesting.
Reviewed by

A Romance Review,

Mary
4 Stars!! THE RELUCTANT LANDLORD was a charming story,... an enjoyable read!
Reviewed by Sime-Gen Reviews, EBKapsar
Susanne Marie Knight clearly knows her historical period: In THE RELUCTANT LANDLORD, she gives her Regency heroine an interesting but unique occupation in keeping with the times.... A surprising plot twist forges Katrina and Quentin's tenuous connection...
Reviewed by Romantic Times Magazine, Cindy Harrison
5 Stars! I thoroughly enjoyed The Reluctant Landlord and would recommend it for anybody to buy. For an American using the old English language like in the book, I think she must be an English immigrant. After reading this book I am looking forward to reading another of her books.
R.R. Amazon.co.uk
Ms. Knight has created a traditional Regency that is intriguing and full of twists and turns for the hero.
Reviewed by Love Romances, Emerald
Back to: MAIN PAGE


Best-Seller
Fictionwise.com.

5 Stars
Amazon Review


4 Stars
Sime-Gen Reviews