The Magic Token

A Regency romance. Is Amanda's golden coin magical? Or is her sudden good fortune just coincidence? You decide!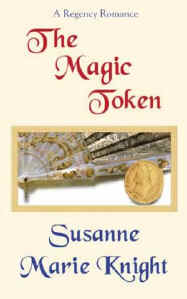 Print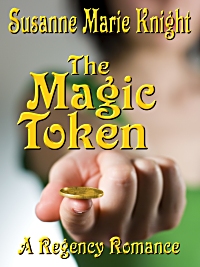 Reissue 2/2012 Uncial Press
Order electronic book at Amazon.com, or other internet locations.
To order print book (2002 edition), click here!
Reviewers are saying:
FIVE STARS! Another fine book from Ms. Knight! Her meticulous research into this period piece shines throughout this wonderful story. From beginning to end, her words paint the scenes with rich visuals which enrich the story line of the two main characters. You will be invested in this story after just a few pages and will not want to put it down. This book deserves its place among the other novels of Ms. Knight.

Reviewed by Visionary Insight Press, Nancy N.
FIVE HEARTS!!! Ms. Knight has given us a truly fun story! I enjoyed how she wove the magic into this, and that coin was just great! Another thing I liked about her story is the little pieces of history she added, like the line about the Marquess of Londonderry…of course, I'm a complete period geek and had already looked this up years ago. This is such a good read! I especially liked the epilogue where we see who Amanda passes the coin to for it's next magic turn! Oh, and yes, I have read at least one other story by Ms. Knight (which I liked) and now I have to find her other work since I loved this story!

Reviewed by The Romance Studio, Teresa T.
THE MAGIC TOKEN is an enchanting take on the Cinderella fairytale, complete with an evil step-mother and fairy godmother. This is a well-researched, well-written story with wonderful characterizations. The duke, who has overcome his abusive childhood, is a great hero and Amanda is a caring and compassionate heroine. There was, also, a very pleasing secondary romance between the squire's son and the Portuguese woman's granddaughter. THE MAGIC TOKEN was a great Regency read, with some magical elements. If you like fairytales, give THE MAGIC TOKEN a try.
Reviewed by

ParaNormalRomance Reviews

,
Marlene Breakfield
Gloriously Magical and loads of fun!... Susanne Marie Knight has taken a magical plot device and whipped up a charming tale in THE MAGIC TOKEN. Her characters are full blown and interesting, while the minor characters add spice. Ms. Knight's writing is bright, and full of that Regency flavor readers enjoy. A sprightly romp which makes for a blast of a read!
Reviewed by

Sime-gen Reviews

,
Nan Doporto
Susanne Marie Knight is a talented, versatile author whose e-books run from this light traditional Regency with a magical element, to time travel, sci-fi romance ..., paranormal romantic suspense, mystery and on to an upcoming contemporary romance.
Reviewed by

Romance Reviews Today

,
Jane Bowers
4 Roses! Ms. Knight was able to weave a tale of magic. The golden coin is suppose to bring the person good fortune but it seems good fortune for the book as well! This was a very lighthearted read and very easy to finish in one sitting -- so be prepared to spend time with this story from beginning to end!
Reviewed by

A Romance Review

,
Pam Clifton
An enjoyable Regency adventure! The characters are vivid and sympathetic, and the story rolls along nicely. There are hints of true magic in the story--the good luck charm is depicted as a token with real power--but the romance and most of the story itself rests on the usual day-to-day lives of the characters. Knight writers Regency romance well, her language and the concerns of the characters clearly reflect the culture they are living in.

Reviewed by

ParaNormalRomance Reviews

,

Ann Leveille

.
Back to: MAIN PAGE


2003 EPPIE Finalist for Best Historical Romance
EPIC Award

5 Stars
Amazon.com Reviews


FIVE Stars!
The Romance Studio


Best-Seller
LionHearted.com .


4 Roses
A Romance Review