The Magic Token

A Regency romance. Is Amanda's golden coin magical? Or is her sudden good fortune just coincidence? You decide!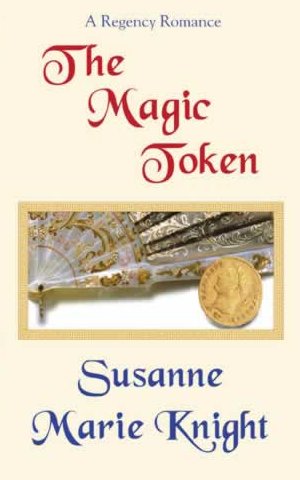 Print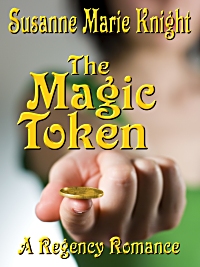 Reissue 2/2012 Uncial Press
Order electronic book at Amazon.com, or other internet locations.
To order print book (2002 edition), click here!
Readers are saying:
OH … MY … GOSH!!! I just finished The Magic Token! I loved it! LOVE LOVE LOVED it! You are such a gifted writer … l love how you wove the story in and out of all the different real historical facts. And the coup de grace was Charles Darwin – and how you read about his mentioning he had a gold coin … wow, too cool! And I loved the comeuppance of Nanette … LOL … in a practical way, I felt pity for her. That she was so concerned with others' opinions and views of her that she had to resort to marriage to a man she did not love. That was so prevalent then (well, and probably now, too) … but you know what I mean. I just loved the book … and Gregory! I loved your line about how she looked in Marcus's eyes, then they became the eyes of a stranger! It was great! Love love loved it!--Nancy G.
My family loved THE MAGIC TOKEN. It's a charming Regency imbued with magic and lots of wonderful characters. Once I opened the book, I left all my troubles behind and had a lively adventure with Amanda, Marcus, and company. Isn't that what reading is all about? My heartfelt thanks to Ms. Knight. I'm one of her fans! --Reggy, on Amazon.com
The book THE MAGIC TOKEN by Susanne Marie Knight would also make a good musical.--posted by Robin T. on Musical Village Message Board.
Enjoyed it very much. This is a page-turner!--Bonnie B.
Fans of Susanne Marie Knight will enjoy THE MAGIC TOKEN!--C.B.
I recommend THE MAGIC TOKEN!--Claire Olson
Leave all your cares away and enter an exciting new world. Live the dreams and enjoy all that you read--problems are forgotten and love, romance, excitement and live a life not only different, but one you could never believe you could. Reading is in fact another world--it affords you an escape and entertainment too easily left behind because of television and movies. They can never give you the true entertainment and excitement a good book does. Read one of [Susanne Marie Knight's] books and compare--you will not be sorry.--Rose D.
My family loved THE MAGIC TOKEN!--C.K.
I enjoyed THE MAGIC TOKEN very much. A real page-tuner!--B.E.
A charming Regency with the intrigue of magic twisted with the fortunes of fate played out with wonderful characters.--M.H.
A lively story!--K.D.
Thank you! I really enjoyed THE MAGIC TOKEN.--J.B.
Back to: MAIN PAGE


2003 EPPIE Finalist for Best Historical Romance
EPIC Award



FIVE Stars!
The Romance Studio


Best-Seller
LionHearted.com .


4 Roses
A Romance Review