Greetings and Felicitations!
After the Great Catastrophe, Rhuemma and her people struggle under the oppressive reign of the Dominus. Can she convince the Dominus' right hand man, Wellington Vadis, that Might is not always Right?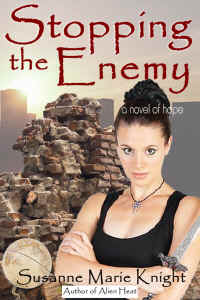 For Your Reading Pleasure
STOPPING THE ENEMY: A Dystopian, Post Apocalytic Romance!
A CONTEST OF WILLS

In the "After Time"--after the Great Catastrophe--young Rhuemma Holliday is a healer, a warrior, and a virgin. Ever since her parents were killed by the heinous dictator of the neighboring territory of Verdeton, the Dominus, Rhuemma's two missions in life have been to protect her people of Casseldia and vanquish the enemy. When chance leads two wounded military males from Verdeton to her cabin door, she finally sees her opportunity to kill the Dominus. However, she doesn't count on the attractions of the deliciously handsome Colonel Wellington Vadis.

MIGHT VERSUS RIGHT

Wells Vadis is in enemy territory to rescue his son. His leader, the Dominus, has also tasked him to capture... or kill a female known as the Crone of Casseldia. When the comely warrior princess who bested Wells twice in hand-to-hand combat turns out to be the crone's granddaughter, he is torn. Should he do his duty and turn Rhuemma over to the Dominus? Or should Wells make his own decisions about what is best for Verdeton, Casseldia, and also for himself?

Available now! Order STOPPING THE ENEMY ebook at Amazon.com.
Available now! Order STOPPING THE ENEMY ebook at Smashwords.com in various electronic formats.
Available now! Order STOPPING THE ENEMY in PRINT at Amazon.com.
---
STOPPING THE ENEMY is a dystopian, post-apocalyptic romance set in the near future. It's a tale of "Us" versus "Them", in this case, the more technologically advanced Verdeton against the villagers of Casseldia. The people of Verdeton want to destroy the other group... or is it just the ruler of Verdeton, slavishly called the Dominus? The heroine, Rhuemma of Casseldia, is definitely a warrior princess. She pulls no punches and even bests Verdeton's main warrior, Wellington Vadis, a few times. These two characters fight the attraction between them because, of course, they're enemies. How they come together is a deliciously satisfying event for the heart. Two thumbs up!--On The Edge Reviews

5 Stars! Once again, Ms. Knight strikes gold with this compelling tale of a troubled Earth. Recovering from a catastrophic event, two territories are nose-to-nose, steeped in hatred that is fanned by the contemptible breath of an evil ruler. However, STOPPING THE ENEMY is also a novel of hope, gifting the reader with optimism that Right overcomes Might. A highly enjoyable story!--Twists On Romance Reviews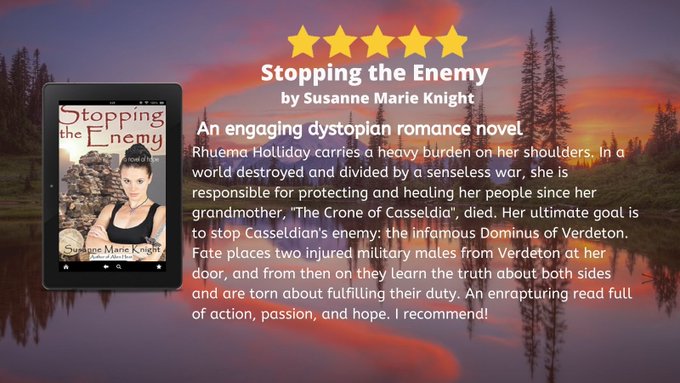 5 stars An engaging dystopian romance novel. Rhuemma Holliday carries a heavy burden on her shoulders. In a world destroyed and divided by a senseless war, she is responsible for protecting and healing her people since her grandmother, "The Crone of Casseldia", died. Her ultimate goal is to stop Casseldian's enemy: the infamous Dominus of Verdeton. Fate places two injured military males from Verdeton at her door, and from then on they learn the truth about both sides and are torn about fulfilling their duty. An enrapturing read full of action, passion, and hope. I recommend!--Steve Arnett Reviews
---
I Love This Book!!!!--Reader Comment
---
Back to: MAIN PAGE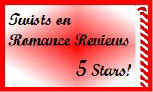 5 Stars
Twists On Romance Reviews
5 Stars!
5 Stars
On The Edge Reviews