Greetings and Felicitations!
An ancient coin transports Olivia two thousand years back in time to the Roman invasion of Britannia and into the arms of a hunky legion commander!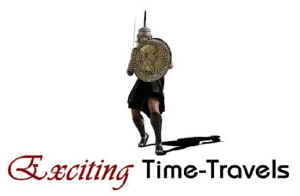 For Your Reading Pleasure
A SESTERCE FOR HER THOUGHTS: Ancient Rome Time-Travel Romance Novel
A SESTERCE FOR HER THOUGHTS:
Olivia Kent knows a brass sesterce is an ancient Roman coin with a value roughly calculated to be one fourth of a dayís pay. What she doesnít know is that one particular sesterce is going to transport her two thousand years back in time to 43 AD and Romeís invasion of Britannia. With the help of a Druid priestess, Olivia dresses as a Roman soldier, and meets Emperor Claudius, along with a handsome legion commander. She changes both of their lives for the better... and her own as well. But hereís her dilemma: should she remain back in the first century where she can make a difference? Or should she take a chance and try to return to her own time?
A QUARTER FOR HIS THOUGHTS:
Quintus Antonius Avitus, commander of Legio XX Valeria Victrix, has served Rome faithfully but is weary of war. On this invasion, he comes across a puny, injured soldier, Livius. The soldier states that he is an American from a land to the west of Britannia--which is impossible since there are no lands past Britannia. But Livius is full of surprises, and also turns out to be a comely female named Olivia. Perhaps she is telling the truth? She is unlike any woman he has known. However, she insists that she cannot stay and must return to her home, despite the fact that Emperor Claudius wants her to accompany him to Rome. Quintus is torn: omnia vincit amor facit--does love conquer all? Or should he continue to auxilio imperatoris--help his Emperor?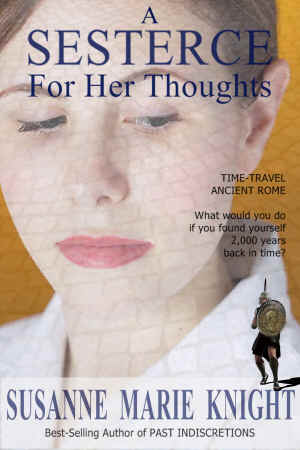 Available now! Order A SESTERCE FOR HER THOUGHTS ebook at Amazon.com.
Available now! Order A SESTERCE FOR HER THOUGHTS ebook at Smashwords.com in various electronic formats.
Available now! Order A SESTERCE FOR HER THOUGHTS in PRINT at Amazon.com.
---
5 Sesterces... and 5 Stars! I confess Iím new to the genre of Ancient Roman romance and all that, and I have to say now, after reading A SESTERCE FOR HER THOUGHTS, Iím hooked!! Olivia, our fish-out-of-water from the twenty-first century, has to quickly adjust to the brutal world of Imperial Rome. Fortunately she has help, otherwise itís for certain she wouldíve been in more danger than just the initial beating at the beginning of her adventure. Her concern for the Emperor Claudius is touching, and as for Quintus, well, he is a warrior with macho integrity. As a couple, they have a huge divide in cultures and expectations to overcome. Thankfully, they concentrate on the things they have in common, instead of the differences. And then, of course, comes Oliviaís dilemma... For a peek into a creative imagining of what may have happened two thousand years ago--an alternate reality, do yourself a favor and read A SESTERCE FOR HER THOUGHTS.--Just Imagine Fanzine
5 Stars! Quite a different read: part creative and part historical. Ms. Knight shows just how very different life was two thousand years ago, and yet people still had the same needs driving them. I enjoyed how she sprinkled Latin into the conversations to show how Olivia had to slowly translate and interpret Roman conversations. Frankly, I enjoyed everything: we discover each piece of the puzzle, to then put it all together to learn the surprise twist... or twists at the end. Excellent!--Norwood Reviews
---
I am devouring this book!! Very, very few novels set in ancient times, even fewer romances, and as for time-travel... basically zip. Wonderful story!--E.C.
---
Back to: MAIN PAGE