THE WRITERS' WORKSHOP on

POINT OF VIEW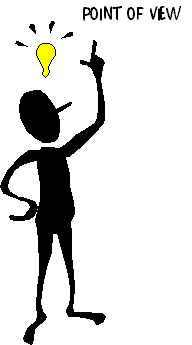 Who's telling your story? Is it you the author? One or more of the characters? Or perhaps it is some all-knowing being? You, as the author, must determine the best person and method to tell the tale. This is what's known as Point Of View.
The Three POV Types
1. First Person. The narrator of the tale uses "I" to relate the action.
Example: I rolled out of bed, pulled on my grungy sweatpants and tee-shirt, then stumbled into the kitchen. (From "Special Delivery", Susanne Marie Knight)
Using the first person allows the story to be more immediate. Short stories are the form of fiction it's most often used with.
2. Third Person. This view describes everyone as he or she. It's the most frequently used POV type. It comes in two flavors: Subjective and Omniscient.
Subjective is the more common method. The reader is inside the POV character's head to live and experience... or to be kept in the dark.
Example: She savored its tangy favor, as she had that fateful night, but its sweetness couldn't erase the memory of her harsh words with Tom. (From "Happy Anniversary", Susanne Marie Knight)
Omniscient Third Person is almost God-like in tone. The narrator is all-knowing and well aware of what is and will be happening to the characters throughout the story. Today's literary trend has moved away from using this omniscient tone exclusively.
Example: The Uortzks were proud, analytical beings. However, desperation has always been known to cloud even the most logical minds. Regretfully, they were on their way to making their third and final mistake. (From Janus Is A Two-Headed God, Susanne Marie Knight)
3. Second Person. "You" is used to describe the action in the story. This method is extremely limiting and therefore is not widely used.
Example: You walk into the room, shivers running up your spine. Once inside, you dart furtively glances around the somber, haunted furniture....
WRITING EXERCISE
Imagine you come from another planet and are secretly visiting Earth. Wearing a disguise so that you fit in with the natives, you pick a busy city block to make your appearance.
Begin from this premise, choose which POV to use and keep your passage within the guidelines of using the first, second, or third person point of view. This exercises need not be brought to a conclusion.
Remember: the purpose of this exercise is to stimulate your imagination and your writing muscles. If you have any questions or would like to email your point of view exercise, an addy is at the bottom of the page.
On to DIALOGUE....